XHSG-015 Triangle Folding Glasses Case Sunglasses Case Optical Case Supplier
Product Detail
Product Tags
Jiangyin Xinghong Glasses Case Co., Ltd. has a strong development team. Our company's development researchers have worked for the company for 11 years. We are very grateful for their persistence. In order to ensure the style and quality of each product, every product We need to modify and try many times, when we encounter problems, we never give up, we try to keep developing at least 5 new models every month, we will keep updating new products and posting them on our website.
For each product, we keep all the information when making samples, molds and templates, product craftsmanship, size or certificate, which makes it easy for us to distinguish the authenticity of the product. In the future, we hope that more people will join us, and we can work together Discuss the production and craftsmanship of a product, study its shape or size together, etc. If you wish to keep your products private, we are more than happy to treasure them with you.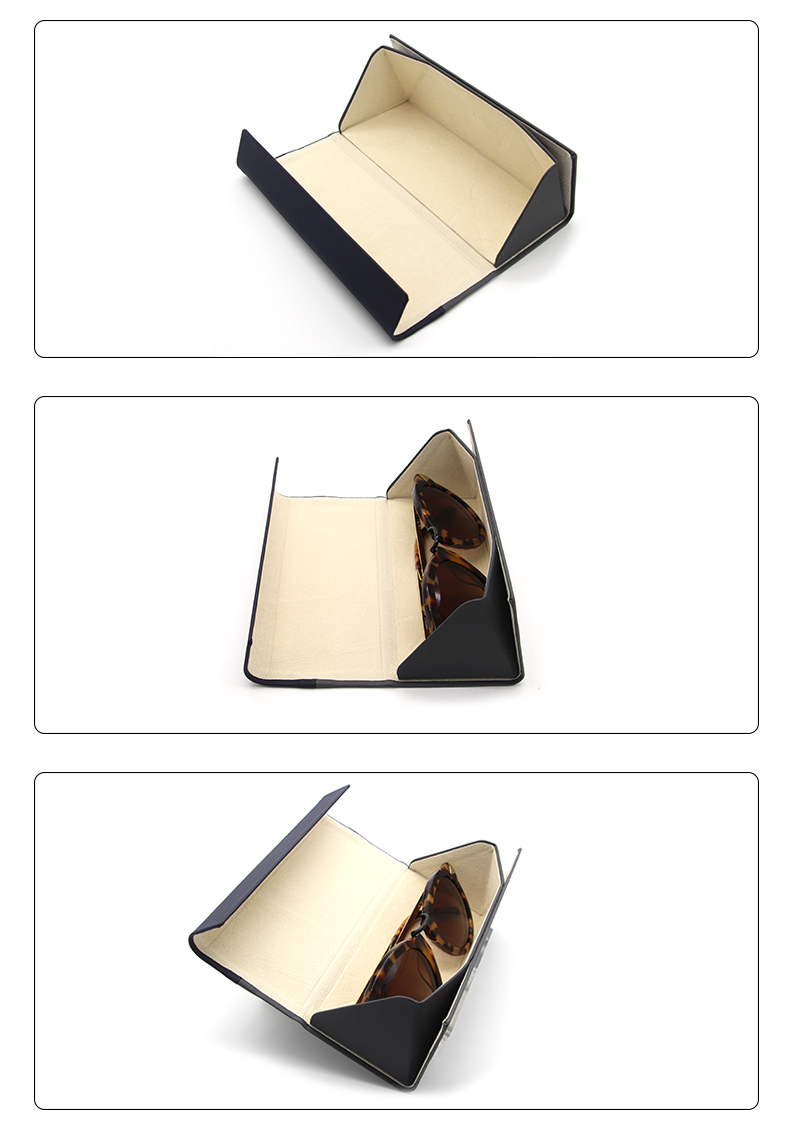 A foldable, triangular glasses case with a hidden magnetic closure. This spectacle case has a quality faux leather surface. This fold-over glasses case is fully lined with soft, light-grey velour, to help keep your glasses scratch-free and clean. We print your logo on the cases' exterior.
The foldable design of this case allows for it to be folded flat when not in use. Flat-packed glasses cases hardly take up room in your storage or in your customer's hand bag. The design of this spectacle case makes it suitable for spectacles in different sizes, even those with large lenses or a bulkier frame.
Use these spectacle cases if you, as an independent optician, would like to supply your customers with high-end cases printed with your own logo. You can even order lens cleaning cloths.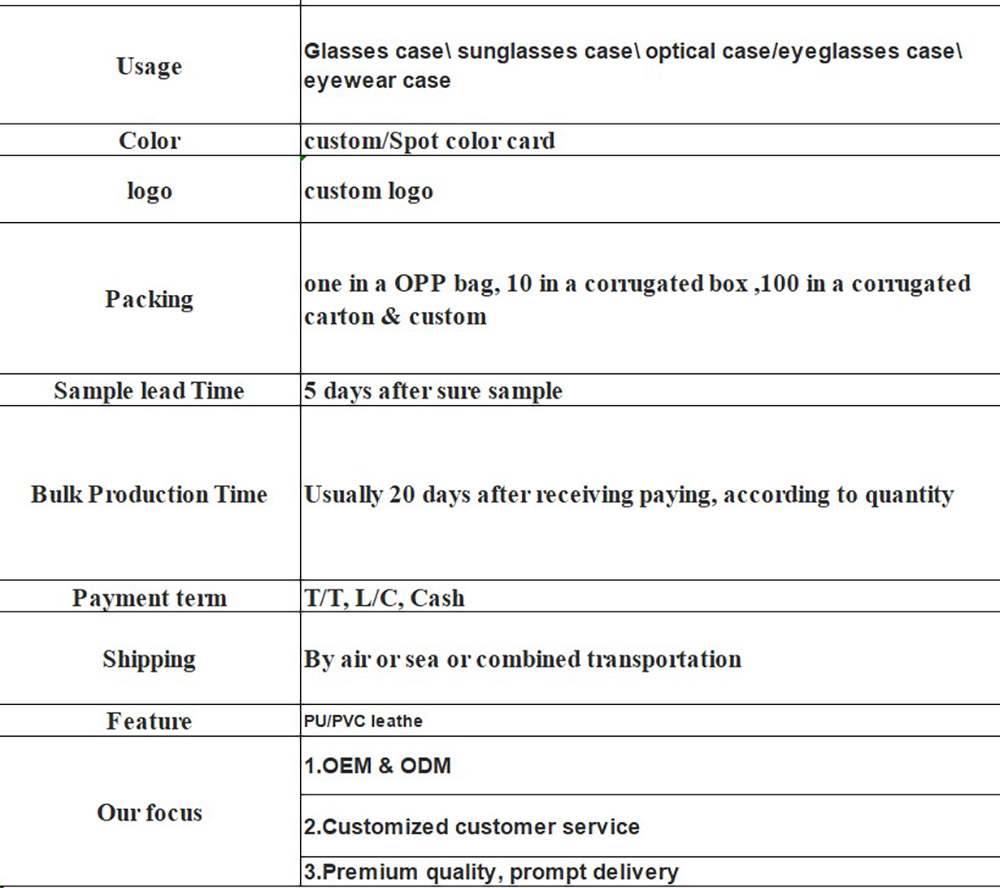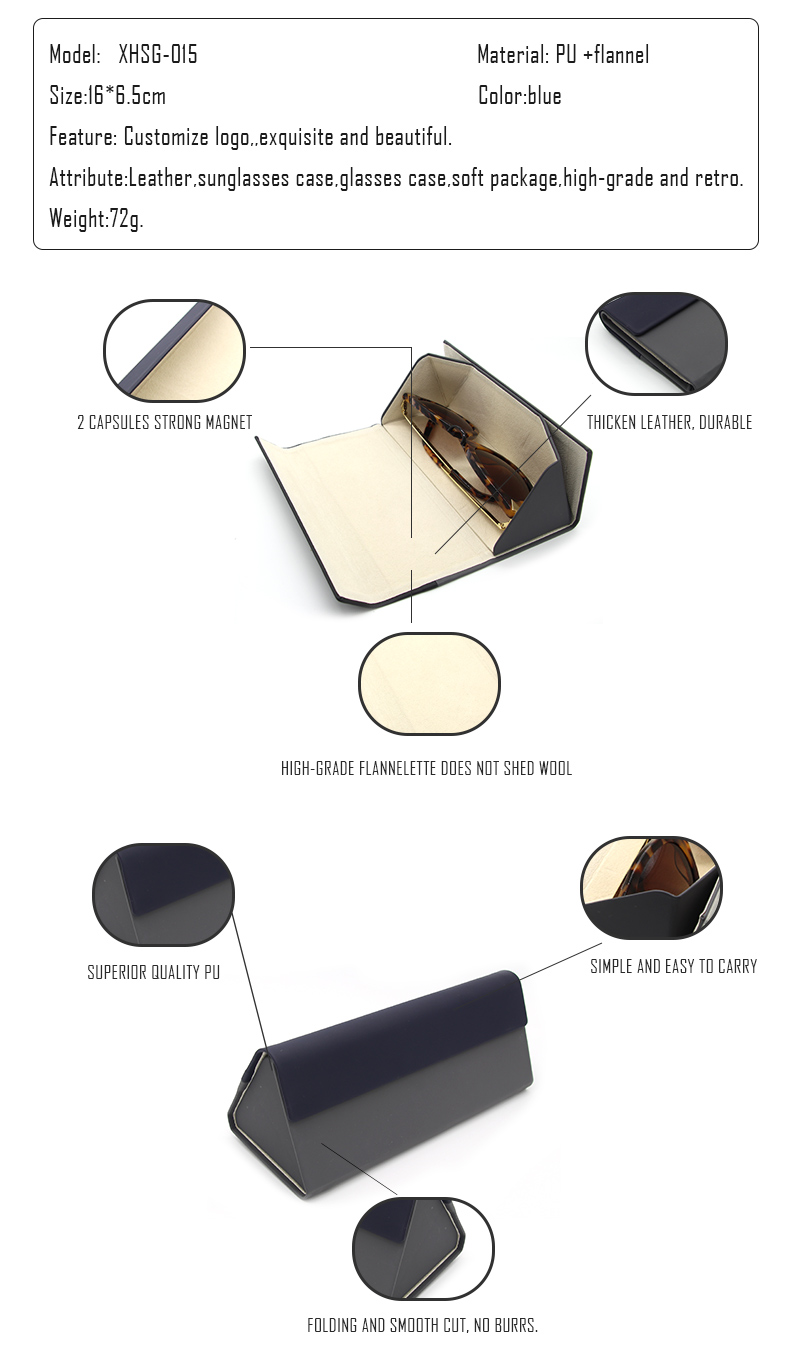 ---
Previous:
XHSG-011 Leather Triangle Sunglasses Case Eyeglasses Metal Case With Magnetic Closure Optical Glasses Case
---